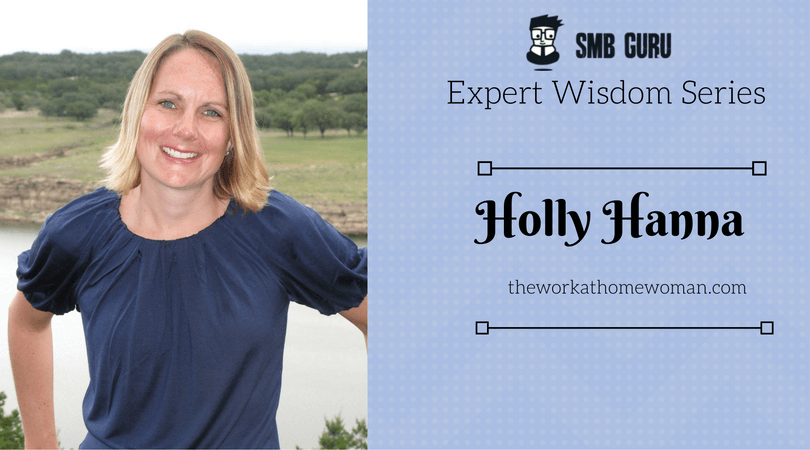 Interview with Holly Reisem Hanna
In March of 2009, she officially launched The Work at Home Woman. She has been blogging for 7 years and she absolutely loves it! Hanna is sure that blogging has given her freedom, flexibility, financial stability and has launched the career of any dreams. As a part of our SMB Expert Wisdom Project we contacted Holly Hanna of The Work at Home Woman and asked her 5 questions.  
1. Do you think that developing algorithms for article writing can be a threat for bloggers? And what can they do to minimize that threat for themselves?
I don't see article writing algorithms as a threat. Yes, these machines can produce content that is indistinguishable, but they don't have that human experience. These algorithms can't relay personal stories, show emotion, or duplicate a writer's unique tone — things which bloggers should be incorporating into their writing.
2. Do you think there's a problem of social deprivation for women working from their homes? And if yes, what are ways to overcome that?
Working from home can be very isolating; that's why it's imperative to know your personal type before jumping into a remote arrangement. If you're a social butterfly that requires a lot of social stimulation, working from home may make you stir crazy, or worse, socially depressed. If you find yourself feeling lonely, you can always try working at a coffee shop, scheduling regular lunch dates, or joining a group or class. If you need more interaction throughout the day, explore some coworking spaces. Many spaces have affordable rates and flexible plans.
3. What's trending for legit home-based work for the next five years?
Current information suggests that healthcare, tech jobs, marketing, advertising, and sales will all continue to see major growth into 2020.
4. What do you think is a better option: starting your own small business or pursuing working-at-home job opportunities?
It depends on your goals and personality. For me, I love being my own boss and calling the shots. I have complete control over when I work and who I work with, which is important. But on the downside, it's all up to me. If I don't hustle, I don't get paid.
Before you jump into either arrangement, you need to ask yourself some fundamental questions, such as, what do you want your life to look like? Do you like predictability? Are you motivated? When you start delving into your work style, personality, and skill sets you'll begin to see certain patterns emerge which can help make your decision. I also suggest reading books like Marcus Buckingham's, Find Your Strongest Life, or Michelle Goodman's, The Anti 9-to-5 Guide – these too can help you narrow down your decision.