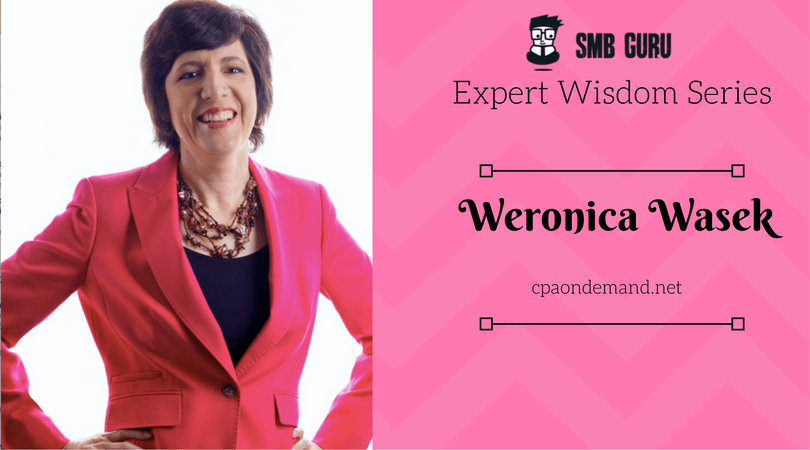 Interview with Veronica Wasek
Veronica Wasek is the Founder and CEO of VM Wasek CPA – a modern accounting firm specialized in leveraging the power of QuickBooks Online and cloud technologies for growing businesses. She is a Certified Advanced QuickBooks Online ProAdvisor, a Certified Public Accountant, and was named a Top 100 QuickBooks ProAdvisor in 2016. She blogs at 5MinuteBookkeeping.com – where she shares her expert tips on minimizing bookkeeping and maximizing profits for small businesses.
1. How would you define 'small business' in 2016?
You could define a small business by the number of employees it has or by its annual revenues. To me, a small business is generally owned by 1 or more owners. The business has employees or contractors. And, the owners have a desire to grow the business, make a profit, and to make a difference in the lives of their customers.
More importantly, a true small business, in my opinion, is one where the owners have the desire and are working toward creating an entity that they can run and not an entity that runs them. In other words, a small business is an entity that creates jobs for its employees and not an entity that creates a job solely for the owner.
2. How do you think technology has re-shaped the SMEs (amazing and sad ways)?
Amazing ways
Small businesses now have the ability to set up totally cloud-based workflows, to integrate the technologies that they use, to be completely mobile, and to collaborate with anyone (employees, customers, contractors, and vendors) around the world. It's so amazing to think that we can reach people all around the world. That wasn't possible for a small business in the past.
Sad ways
Technology sometimes makes some business processes seem overly simple. We don't necessarily value the work of experts because technology solutions make us think that don't need experts. For example, in the accounting world – most small business owners think that they can hire a low-paid support staff to handle their company's accounting tasks because they can use apps like QuickBooks. While QuickBooks does take the pain away from mundane bookkeeping tasks, it cannot replace the knowledge and expertise of an accountant.
Being 100% mobile and totally connected at all times to your small business can have its drawbacks as well. I find myself checking email at midnight just because I can. We need to have clear boundaries between our business lives and our personal lives.
3. Please give 5 notions that would define small business owners in the future.
-Innovative
-Influencers
-Connected
-Global
-Disruptors
4. What's the best strategy to overcome the Digital Divide?
That is a topic that is near and dear to my heart. There is a huge disruption going on right now in the accounting world. Technology is totally redefining the profession. There is a huge divide between the older accountants who want to keep things as they are (until they retire) and the younger, modern accountants who have embraced the cloud, integrated applications, and technology as a whole. I happen to be part of the modern accounting movement and while it is really exciting, I am troubled by the resistance of so many accountants who want to maintain the status quo.
In this case, the best strategy to overcome the Digital Divide in the accounting profession is:
1. Be open minded and willing to change
2. Move in the direction of change, even if it is one step at a time
3. Connect with peers who are further along in their journey and learn from their experiences
4. Take advantage of industry publications and free training
5. Connect with technology providers – most of them provide training and certifications
5. Who is your favourite blogger recently?
I can't say that I have a favorite blogger. I look for valuable information no matter who the blogger is. I generally find great blog content from Twitter and LinkedIn. I also get valuable content from Insightful Accountant, Wistia, Kim Garst, and others. Of course, having my own blog at 5MinuteBookkeeping.com – I try to provide valuable content as well.